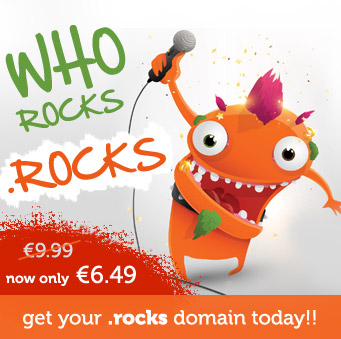 Who Rocks?
You Rock with a .Rocks domain name !!
Got a Band? Advertise it with a cool .Rocks domain.
Looking for a quirky gift this christmas? Register a .Rocks name for your friends or family member and let them know they ROCK !
Or register your own name with .rocks and point it to your Facebook, Twitter or YouTube Page, to make it easier, and COOLER, to find you on the internet.
All domains registered come with our easy to use DNS Control Panel, so you can easily point your new .Rocks domain wherever you want in minutes.
At the new low registration price of only €6.49 + vat, (was €9.99 + vat), now is the ideal time for you to .rocks !!