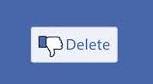 As of April 2018, Elive have decided to permanently delete our Facebook page.
This is part of our commitment to the privacy of our customer's data.
As part of our GDPR reviews, we are committed to ensuring at client information is used responsibly and to re-assure that we do not share customer information with 3rd Parties.