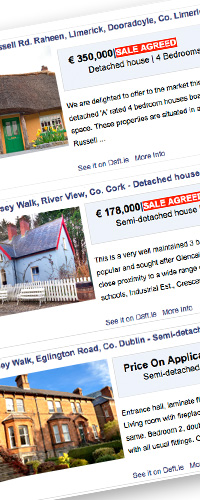 Our Property Listing Plugin for WordPress is the fast and simple way to link your WordPress site to all your Sales and Lettings Listings on Daft.ie.
Auctioneers who use DAFT to list their properties have all the details entered on the DAFT.ie website already and do not want the hassle of having to type it all in again on their own website, or updating 2 sets of lists once a property is sold or rented.
All your active DAFT.ie listings are shown on your website, including photos, without you having to enter them twice and your clients have a powerful search tool.
With our simple Elive™ Property Listing plugin, you can decide what fields to allow users to search by, what values can be searched (e.g. limit searches to local counties only, or not allow commercial property searches if you do not handle such listings), and what details to show on the property results pages.
You can also set which of your listings to show as a featured property anywhere on your site.
To get running , you simply enter your DAFT API key, setup some quick settings and then you can use our supplied template pages or just enter our short codes to your own pages. You can have your site showing all your daft listings within 10 minutes.
Main Features:
Bring Traffic directly to your site so you can advertise all your services.
Ability to set the Search form, results and advert details template pages
Set the number of items per page to display
Sort results by 3 different sort options
Set 3 featured properties easily from a menu selection
Customise your Search Form, showing your labels and just the fields you want.
Set your price search values according to your own preferences
Easily set the items to show on your Property Details Page, such as photos, BER Rating etc
No need to administer 2 lists. As you update your DAFT listings, the changes are instantly showing on your website
Listed that are Sale Agreed have a specific banner on them to reflect this.
Listings can have a contact form on them to allow clients to contact you directly.
Our Property Listing Plugin is available for only €299 + vat  
*** Comes with 30 day, no questions, Money Back Guarantee. If the plugin does not meet your needs and you decide not to use it, we will be happy to fully refund your purchase within 30 days. ***


Have a look at some screenshots (click to enlarge):
Our plugin should be compatible with most templates and is mobile responsive.