Get in touch with our experienced support teams today!
Over 50% off in our .ie Domain Name Summer Sale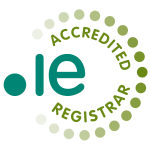 WOW !
Its Summer time and Elive are bringing another ray of sunshine with our amazing price drop with over 50% off .ie domain names.
Register a new .ie domain name or transfer to us from another provider and get the sizzling price of only €12.99 + vat for the first year.
No limits apply, you can register or transfer as many domains as you want. And you can combine it with any other products, like our great value hosting or effective anti-spam email scanning service.
Check now and get saving today!
Domain: .ie.com.net.org.eu.co.uk.co.pro.biz.me.tv.cn.com.uk.com
Elive Tip : Keep your domain simple. Avoid dashes and runs of the same letters. Say it out loud, it needs to be something you can easily say to people over the phone or in Audio Advertising. You dont want the spend every phone call spelling out your domain or missing business because people mis-spell your domain name.